1. A statistic from the recent Ehrenberg-Bass report that only 5% is in-market at any given time.
2. As below post by Sam Kuehnle points out, 4 out of 5 vendors have a day 1 list – the list you want to be on as a vendor if you want to compete.
This implies you will be spending a lot resources on the long game. As the research by Ehrenberg & Bass indicates, the ultimate goal is to build 'long-term market memory'. But, I hear you say, don't we need leads right NOW ?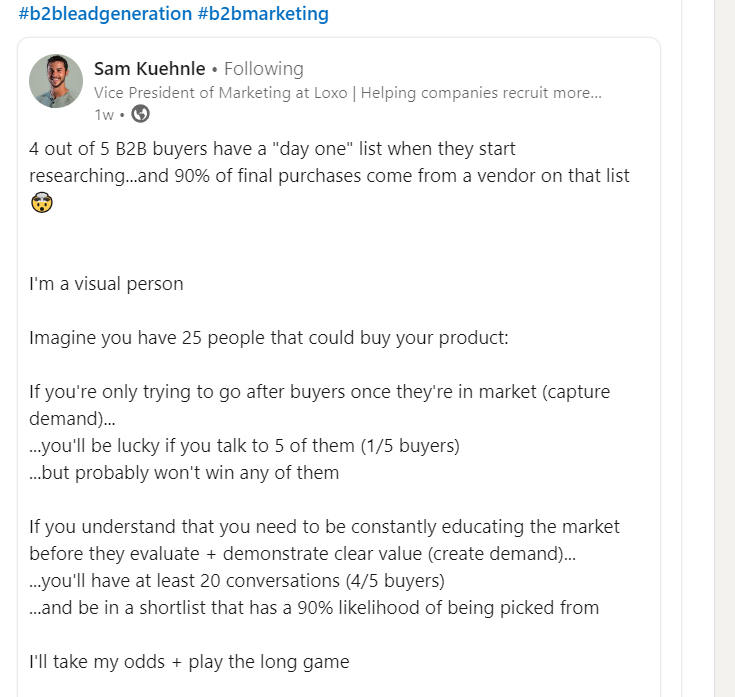 Yep. The issue arises when senior management has unrealistic expectations from about how quick the marketing investment 'should' deliver results.
Some expect instantaneous results through LinkedIn Ads, similar to Google Search Ads 🤷‍♂️. They miss that search ads are people who are showing clear intent – by searching for a problem or a solution, indicating that they are either in-market or getting ready to get in-market.
Educating the senior management on the dynamics at play and managing expectation is key here – and visual representation like the one below can help.
❓❓ What strategies do you have to persuade senior leadership to invest resources in long-term 'market-memory building' ? Need any help –